CLASSIC NIGHTS: LUCÍA MILLÁN AND ARSIS QUARTET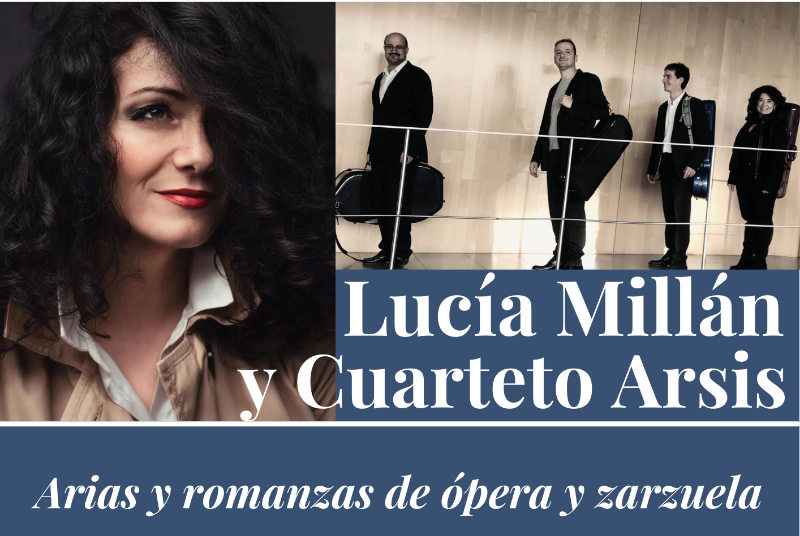 CLASSIC NIGHTS: LUCÍA MILLÁN AND ARSIS QUARTET
8:00 p.m.
Lucía Millán develops her training both at the Conservatories of Córdoba and Málaga, where she obtains the Higher Degree in Interpretation in the specialty of Singing with Alicia Molina and M. Carmen Pérez Blanco, as well as at the "Arrigo Boito" State Conservatory of Parma (Italy) , where he studies with Adriana Cicogna and Carmen Santoro. She is currently completing the Official Master of Musical Heritage of UGR, UNIA and UNIOVI.
The Arsis Quartet was born from the initiative of guitarist and professor Carlos R. Vivar. It arises from a need and concern to delve into Chamber Music (he has participated in Guitar, Flute and Guitar duos and currently directs a Plectrum Orchestra and Guitar Orchestra) to expand the sound and timbre possibilities and the technical and artistic capacities that gives us such a 'chameleon' and beautiful instrument as the guitar.
€3 collaboration with social associations in Benalmádena.
Withdrawal of tickets, until full capacity, 1 hour before the show on the day of the performance. Limited capacity.